Top mode for PMC
pmcstat -Sinstructions -T ~/pmctest/prog/pmctest 10000
hotkeys:
f : replace empty cost function name by "."
c+d : delta mode (default)
c+a : accumulated mode
n : next view (tree vs top cost)
p : next PMC
m : merge PMC with same name (ie merge all CPU sample) (default)
' ' : pause
q : exit
-o is also working and periodically output a snap in the file
Display the following output updated each 5s (default).
Tips: Using log file for output can do periodic snapshot of the system for an interesting view of a workload.
View 1: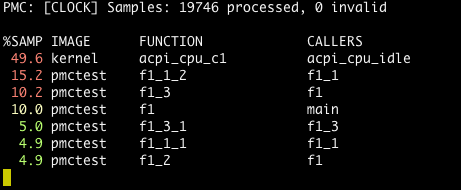 View 2: