Test setup:
The test consisted in running the netperf tcp stream test through the wrap board, to see how much traffic it can sustain/forward/nat with different software setup.
The network was setup to make all the requests and replies pass through the wrap board, while netserver and netperf where running on the desktop.
Socket sizes: -s = -S = 57344.
Desktop: PentiumD 920 (2x2.8Ghz), 2Gb RAM - FreeBSD-HEAD/amd64.

Wrap: AMD Geode (486 clone 233Mhz), 128MB RAM, 10/100 sis nics (DP83816 PCI) details here.

World and kernel for the wrap board were compiled with -O1 (except in the gcc optimization tests).
In the 7.x tests, ipfw was compiled as a module and it was not loaded during the simple forwarding tests.

In the 4.x tests, i used 2 different kernels: one with IPFW & DIVERT compiled in (used only in the nat tests), and another without IPFW compiled in (used for all the other tests) - this way i avoided ipfw overhead in the forwarding tests.

A tarball containing test results, gnuplot files and plots is available here.

Below the images are my comments, feel free to add yours.

Author: Paolo Pisati <piso@FreeBSD.org>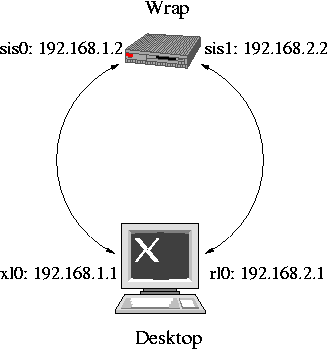 Legend:
4.x: FreeBSD 4.11/i386
7.x: FreeBSD HEAD/i386 (30/12/2006)
fwd: net.inet.ip.forwarding=1
ffwd: net.inet.ip.fastforwarding=1
poll-1x: device polling activated for sis0
poll-2x: device polling activated for sis0 and sis1
nod: net.isr.direct=0 (7.x default: net.isr.direct=1)
natd: ipfw divert socket + natd
ipfwnat: ipfw nat
O0: -O0 (no optimization)
O1: -O1
O2: -O2 -fno-strict-aliasing
Os: -Os (implies -fno-strict-aliasing)
---
In the 4.x-ffwd case, looks like the 100Mbit nics are the bottleneck.
---
Dunno what's the cause for the drop in 4.x-fwd-poll2x.
In all the tests without polling enabled, the wrap board was unresponsive (livelock?!?!).
There's something definitely wrong with polling in 7.x (maybe since 5.x?).
Device polling in 4.x gives a remarkable improvement.
---
All the 4.x plots are overlayed on top of each other.
In 4.x, turning on polling with fast forward enabled (contrary to what happened in the previous experiment), didn't give any performance boost: perhaps with Gb nics we would see an improvement?
---
Merge of the 2 previous experiments: really messy, but useful to directly compare different combinations.
---
As per rwatson request, i did this test (more from him? :).
---
In 4.x the firewall (ipfw) and fast forwarding are not compatible, while in 7.x (in the fast forward path) we traverse the pfil hooks so i turned it on in that case.
Turning on polling didn't improve the 4.x cases (while it improved simple forwarding - see above).
In any case, 7.x ipfw nat looks faster than 4.x natd.
---
Being the curious person i am, i wanted to see how much impact different gcc optimization levels can have on packets forwarding, and i was gladly surprised to see how the situation improved rising the optimization level - definitely worth a try imo, at least the -O1 level.
---
Conclusion:
4.x (at least on slow/UP/this hw) is almost always the fastest solution.
Turn on fast forwarding whenever possible.
Device polling looks broken in HEAD (what about 5.x? 6.x?).
7.x ipfw nat is faster than 4.x natd.
Rising compiler optimization level can significantly affect the performance.