Bugzilla Search Ideas
Comments
The Advanced Search page is mysterious and underdocumented. Most committers do not even know it exists. Perhaps we should create a front-end for it.
Specific Searches To Create
most committers should have a "patch included" search checkbox, also on by default. This would save all that clicking in the Advanced Search page -- including the fact that you have to select "is equal to" from the dropdown and enter the value of "1". Obscure much???

Here is a proposed implementation of adding that checkbox to the "Simple Search" page. Note that having this checkbox has a mutex with being able to use the "Custom Search" fields, due to magical hacking.

most committers should have a "within the last N months" search checkbox and it should be on by default. 6, 12, I don't care. But nything more than 12 is overwhelming.
perhaps a checkbox of "assigned to no one".

(fancier) perhaps near two dropdowns of "assigned to mailing list" and "assigned to individual"?. The mailing lists would have to be statically defined, and "individual" as "@FreeBSD.org but not mailing list". This kind of sounds like an add-on database, eh?

the following initial proposals perhaps will be subsumed by the proposed refactoring of Keywords:
Usability
Text searches are so greyyyyyyy.
compare the (abandoned prototypes) pie chart 1 and pie chart 2 for kernel PRs.

perhaps these would be better (or alternatively?) be links from a block diagram. Compare:

McKusick 1996. Subject to copyright.

TODO 20210709 I have scratchpad for this but not yet permission to unleash it on the world; email me for details
Mark's Slides From 2008
For comparison: 2008 search ideas
Questions
How much area do the "specific mailing lists" cover?
How much area do the Keywords cover?
See Also
advanced_search_1.png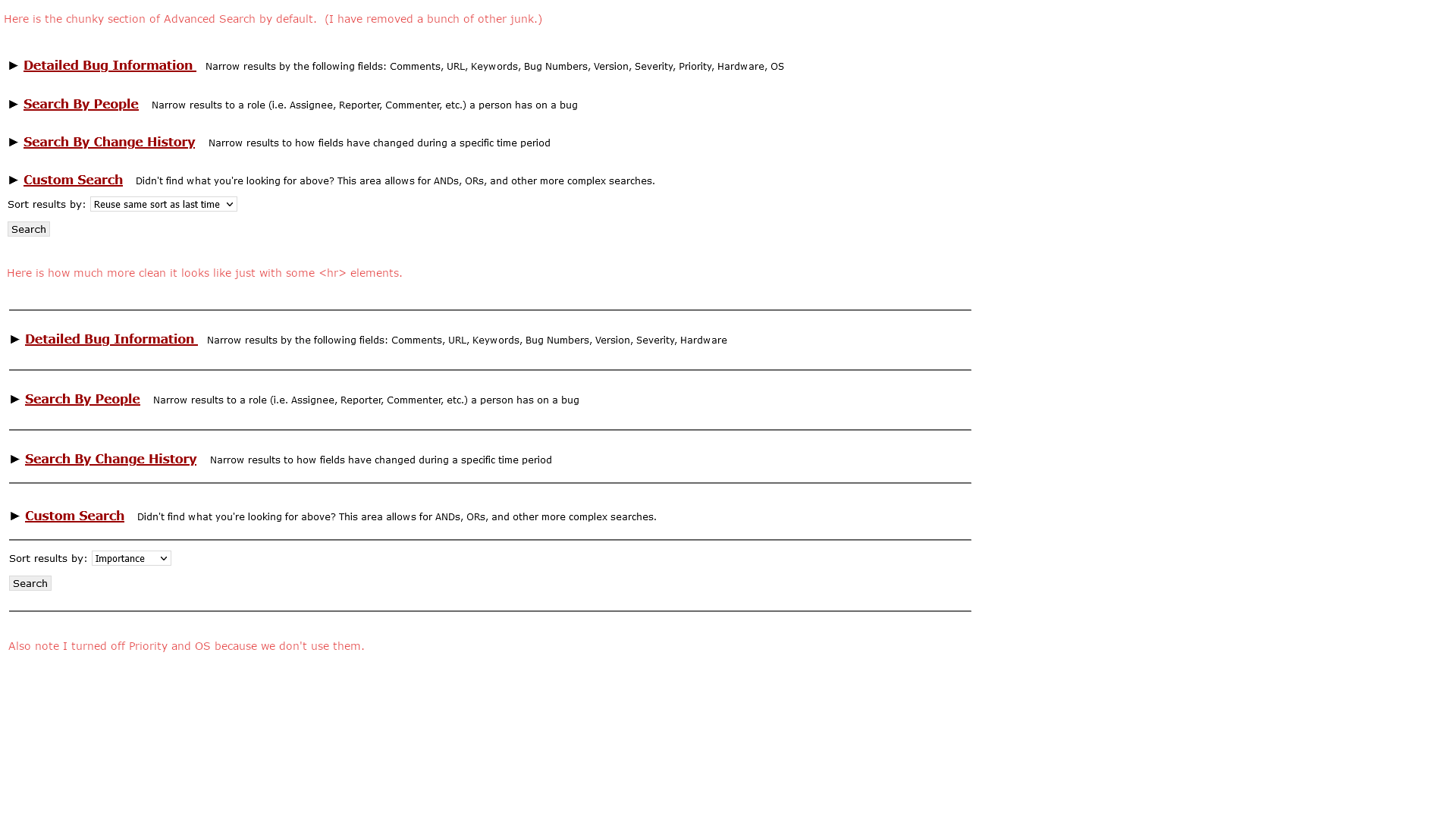 advanced_search_2.png
simple_search.png